Attend one of our upcoming events.
Each One, Reach One: An Evening with CASA and Friends Presented by Signet Jewelers
Wednesday, August 23, 2017 5:00 pm - 7:00 pm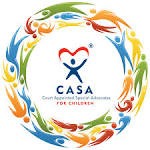 Location:
Akron Art Museum
Description:
Summit County boast one of the most influential and successful CASA/Guardian Ad Litem programs in the nation. This accomplishment is not merely the result of having a dedicated juvenile court judge, executive director and staff. It is due also to the generous donations of time, treasure and talent which pour into the Program from all across Northeastern Ohio. Without the assistance of hundreds of individuals, our program would not exist, and the children of Summit County – the most vulnerable among us – would no longer hear the voice of a trained Court Appointed Special Advocate (CASA) speaking for them in court about their health, their welfare, their safety and their wishes.

We invite you to join us on Wednesday, August 23 at the Akron Art Museum to enjoy cocktails, hors d'oeuvres, and fun. During the evening we'll:
• celebrate all that CASA has accomplished and kick-off the Board's biennial signature event, "Arty Party;"
• recognize and thank our tremendous and talented CASA volunteers; and
• hear the sobering statistics that leave a Program as robust as ours in continued need of funds and volunteers.

If you are already involved with CASA, we ask you to attend and bring a like-minded friend or colleague as your guest to consider becoming a CASA Volunteer. More than ever, we need you to help us recruit the special people who can and will say, "I am for the Child."

Register for this complementary event below, or learn how you can become a sponsor for Each One, Reach One: An Evening at the Museum with CASA and Friends presented by Signet Jewelers.
This form stopped accepting submissions on August 18, 2017 11:30 pm EDT.